🌐Supported Languages🌐
🎂New Foods🎂
This addon comes with tons of neat new foods to mess around with! With more being added in the future.
Click a spoiler below for more information.
🍗Overview of the foods🍗
Much like the original, this version contains a ton of different variety's of food from both fiction and real life!
All the foods can be gained either from survival or creative, here is a short overview of some of the foods featured in this mod.
🚜Farming🚜
This mod comes with some neat crops! They all have a Semi-Vanilla look to the theme and range from simple 2D crops to 3D ones as well! And best of all, these new crops don't require a geometry fixer to work.
The various seeds can be gained by trading with the wandering farmer.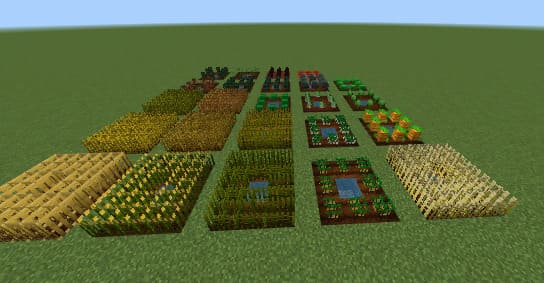 Each crop has 4 different stages, similarly to vanilla crops, once they are fully grown, they typically change to a darker color and are bigger.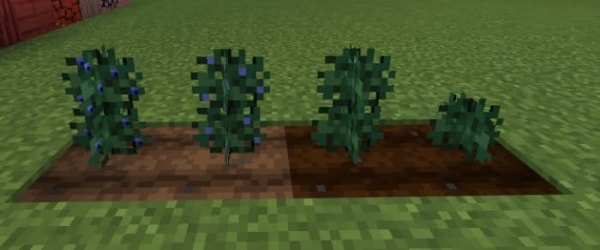 🍙Other crops🍙
🌳 Tree's 🌳
Trees! Everybody's favorite plant, these guys are grown from saplings and can also grow fruit as well.
Here's a simple overview of the new trees featured in this addon.
🚜Farming Machinery🚜
Use farm vehicles to harvest crops faster and more efficiently! You can get these machines by trading with the crop trader, or by using the PC.
Click on the Tab below to find more info about the vehicles.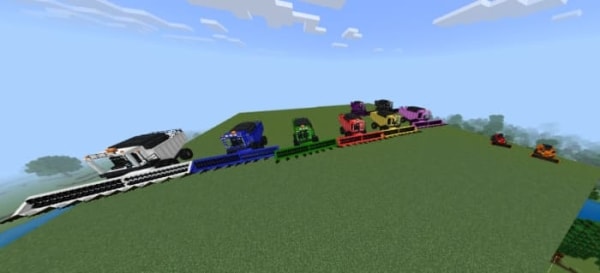 ▬▬▬▬▬▬▬▬▬▬▬▬▬▬▬▬▬▬▬▬▬▬▬▬▬▬▬▬▬▬▬▬▬
🦊New Mobs🦊
This addon also features some new mobs! Currently, they are mostly for aesthetic. However, more uses will be added in the future
▬▬▬▬▬▬▬▬▬▬▬▬▬▬▬▬▬▬▬▬▬▬▬▬▬▬▬▬▬▬▬▬▬
🚧New blocks🚧
Blocks! They can be used to build new structures and other things.

🎂Placeable Foods🎂
Some foods can be placed down! They can also be eaten too. They can be found in the "Misc. Foods" section in the creative menu, traded with the aimless baker, or crafted.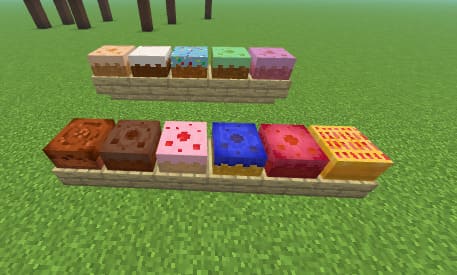 🎨Generation🎨
Some blocks can also be generated randomly throughout the world.
🖨️Production🖨️
This addon also comes with working stoves and other production blocks
Click a spoiler below to find info on the various production blocks!
🛑Additional Information 🛑
Before using this addon, be sure to enable both Holiday Creator Features and Custom biomes.
(Note: Foods plus does not create new biomes or modify existing ones, the custom biomes toggle is just needed so custom crops and blocks can generate naturally in the world)

Other ways to get items
▬▬▬▬▬▬▬▬▬▬▬▬▬▬▬▬▬▬▬▬▬▬▬▬▬▬▬▬▬▬▬▬▬
🍇Supported Minecraft versions🍇
List of Minecraft versions, this addon supports
1.19.40,1.19.30,1.19.2, 1.19, 1.18.30, 1.18.20, 1.18.10, 1.18

📱 Links and socials 📱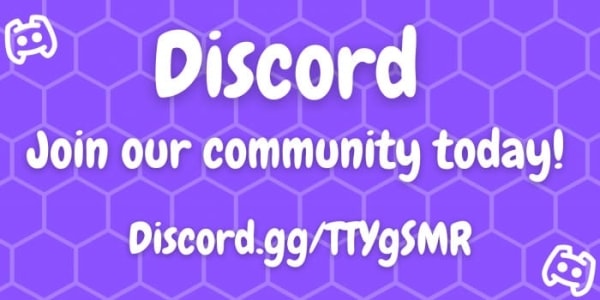 💬 Need any help, want to suggest a new feature or chat? Join us on discord! 💬
Share idea's, Tell us your feedback, chat, get notified when new content releases and more!
🌺====================🌺
🌺====================🌺
🔥 Want to get notified, when a new content or an update drops? Join us on social media! 🔥

Support us
💖 If you enjoy our projects, feel free to donate and support our future endeavors! Every bit helps. 💖
~~~~~~~~~~~~~~~~~
~~~~~~~~~~~~~~~~~
▬▬▬▬▬▬▬▬▬▬▬▬▬▬▬▬▬▬▬▬▬▬▬▬▬▬▬▬▬▬▬▬▬
🕹️ Official YouTube channel 🕹️
I now upload videos to YouTube! It's mostly shorts, but I intend to upload longer videos in the future.
▬▬▬▬▬▬▬▬▬▬▬▬▬▬▬▬▬▬▬▬▬▬▬▬▬▬▬▬▬▬▬▬▬
How to download
if you choose to go with the linkvertise link, it will take you to linkvertise, from here you need to scroll down a little and click "Free access with ads", after that click discover interesting articles and wait 5 seconds to close out of the window, after that, you will see a green check mark click on where it says continue to website, once you are in mediafire click the blue button on the right to get your file.
Updated on January 24