Mhafy's Ship [Build Your Own] [v0.20.3 Patch Update]
Do you want to build your own ship? Do you want to ride your ship and set sail? Imagine building your own ship and sailing it across the great ocean of Minecraft.
Mhafy's Ship [Build Your Own] is an addon that grants the player an ability to make their own ship move. The custom ship will be powered by the ships wheel, which will make the whole build act as one and be able to move and sail across the sea.
Demonstration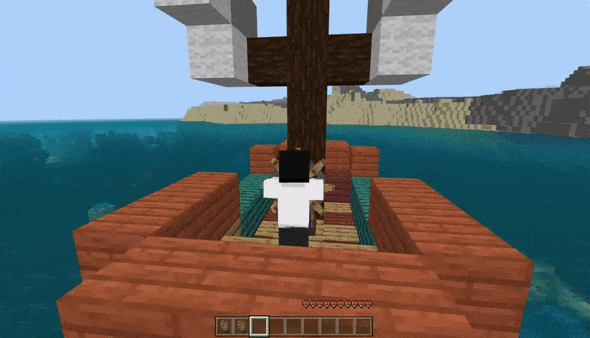 Ships Wheel
This item can be placed.
Act as the core of the ship.
This will make the ship comes to life and will be able to move and control.
Wheel
Material item.
Used to craft the ship wheel.
Floating Point
This item can be placed.
This will be only placed in any location below the ship's wheel. Otherwise, this won't work.
This will control how deep the ship will submerge.
Seats
Stools
Acacia
Bamboo
Bamboo Mosaic
Birch
Cherry
Crimson
Dark Oak
Jungle
Mangrove
Oak
Spruce
Warped
Cushions
How it Works?
First, build your ship. The ship must contain only valid blocks on the list below.
Blocks must be connected (Otherwise the block will be skipped)
Ship must contain more than 5 blocks and not over 1024 blocks.
Place your ship wheel anywhere in the ship. It is up to you.
Tapping or right-clicking the ship wheel will start the process and all connected blocks will act as one. Then the player will automatically mount the ship facing the wheel.
All unconnected blocks will be skipped and left hanging.
Sneak of jump to unmount the ship
When unmounting the ship will automatically rotate according to its nearest angle of facing (north, east, south or west)
Adding floating point will control how deep the boat will submerge.
You may add multiple floating points, but at least one must be somewhere below the ship wheel.
Changelog Videos
Watch to see the changes:
Required Experiments
Don't forget to turn these on:
Note
Floating point isn't necessary without floating point the lowest block of the ship will become the floating point

When activating the ship and only the ship wheel is visible unmount the ship (press shift) then try activating again (If issue not solve please report).

When you see some blocking hanging after activating the ship don't worry It's just the render of the block, it will be gone in second.
Join my crew! Discord
Thanks! 😄
Updated on September 16
Mhafy's Ship 0.20.3 - Changelog
Fixed minor bugs
Fixed multiplayer error when activating ship
Reduced lag when activating ship
Improved blocks rendering