Amon28
upd:
Backpack Plus Addon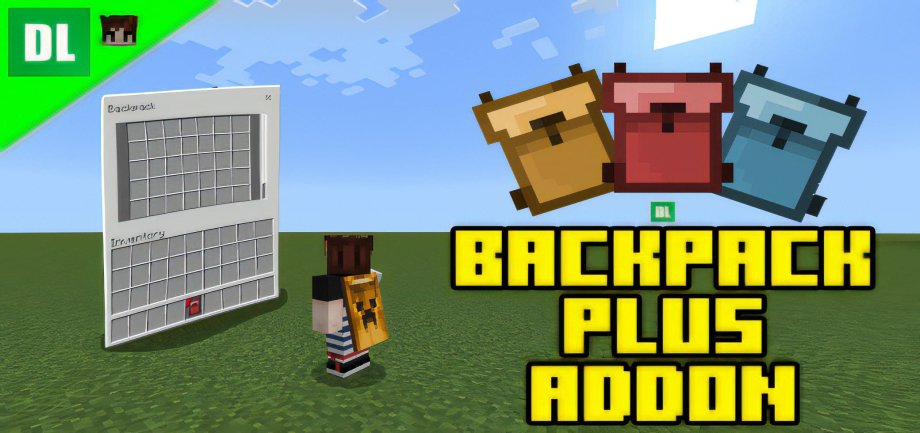 Do you want a backpack addon that works very similar to the Backpack mods from java? Or do you want to carry alot of things but don't have anymore space in your inventory? This addon is just for you!
If you have played any backpack mods from Java, you might be familiar to how this addon will work.
Recipes:
Show/Hide
How to Use:
First, craft the backpack, then hold it on your hand, you will notice a red thing will pop-up next to the icon. Holding the backpack will not let you hit anything or interact with blocks.
Now, if you are on a PC, just right-click while the backpack is on your main hand, and you can now access the backpack's inventory.
If you are on mobile, simply tap the open button, or long-tap the screen while holding the backpack.
PC and Mobile have the same Backpack GUI:
The items are saved per backpack, so you can put items in the backpack and share the backpack with your friends.
Backpack Commands:
Show/Hide
Backpack Recovery System:
The most important function of the improved backpacks the Recovery System!
Installation:
Make sure to turn on the backpack resource pack in your world if you are using this addon.
As always, backup world first if you are updating from an older version of the backpack just to be safe.
Don't forget to activate the experimental functions:
ENJOY :D
My Twitter: @Dewdimpple
Also, join my Discord Server for addon problems or addon updates!
Updated on December 06
Updated to 1.20.50
Added new command !bps list
Changelog for November 26 / Old Update
Changelog for October 19 / Old Update
Changelog for October 01 / Old Update
Changelog for August 13 / Old Update
Changelog for August 09 / Old Update
Changelog for July 14 / Old Update
Changelog for June 29 / Old Update
Changelog for June 09 / Old Update
Changelog for May 17 / Old Update
Changelog for May 01 / Old Update
Changelog for March 17 / Old Update
Changelog for February 09 / Old Update
Changelog for January 11 / Old Update
Changelog for December 01 / Old Update
Changelog for November 18 / Old Update
Changelog for October 28 / Old Update