Raboy's Zombie Apocalypse | New Structures, New Zombie Illagers, Better Visuals, Better Zombies, Improved World Generation + Much More!
Immerse yourself with the most realistic and vanilla-friendly Zombie Apocalypse addon for Minecraft Bedrock! This addon adds a bunch of new mechanics to the vanilla game and an apocalyptic landscape and ambience to truly immerse yourself in a post-apocalyptic environment where tons of zombies roam around the land.
Welcome to Raboy's Zombie Apocalypse addon, the ultimate zombie survival experience for Minecraft Bedrock and MCPE players! Dive into a world overrun by the undead and put your survival skills to the test in this immersive, intense, and thrilling zombie apocalypse!
Table of Contents
Info
⚠️WARNING! Be sure to enable the following experiment toggles and cheats, otherwise, this addon won't work.
⚠️IMPORTANT: type /gamerule commandblockoutput falseif you created a new world, so there won't be any random texts that appear on your screen while you're playing.
Features
Raboy's Zombie Apocalypse adds the following unique features to the game:
Known Bugs
Some saplings don't grow with leaves
Zombie Villagers still burn during daytime
More Amazing Addons and Resource Packs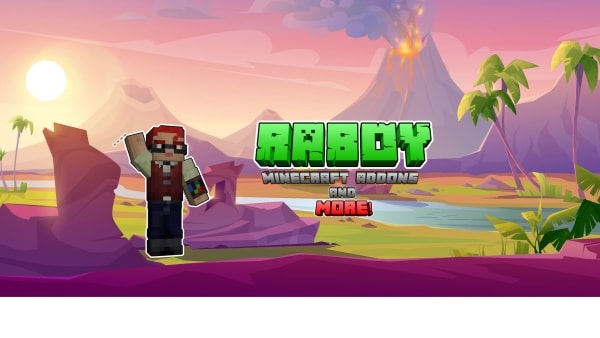 Check out my YouTube Channel where I showcase my high-quality addons and much more!
My YouTube: Raboy13
SUPPORT ME
Supporting me on Patreon enables you to have a bunch of perks like direct links, unencrypted and unhidden file version of my addons, early access to in-development projects, and VIP-exclusive modded versions of my addons!
🔷For more information, check out my Patreon page now: Patreon
🤖Join my discord for updates: Raboy13's Paradise
Updated on August 08
Raboy's Zombie Apocalypse v1.1.0
Compatibility:
Gameplay:
Fixed saplings don't grow with leaves (only works with oak saplings for now)
Charged and supercharged iron golems now destroy blocks when exploding
Significantly improved wandering trader trades
World Generation:
Removed flowers that generate on some parts of the world
Slightly tweaked world generation
Added abandoned houses (which only spawn in wooded areas)
Visuals:
Improved zombie walking animation speed (walk animation speed now depends on how fast the zombie is moving)
Added sponge with gun zombie variant (patron skin)
Mobs:
Zombies now drop xp when killed
Zombies are now slightly faster, except for the miner zombies
Zombies now attack faster
Match zombie villager behaviors to other zombies
Improved zombie villager animations
Illagers now attack zombies, and vice versa
Illagers are now friendly towards villagers
Illagers are now neutral towards players
Illagers are now friendly towards iron golems, and vice versa
Pillagers will now try to avoid zombies
Ravagers are now friendly towards iron golems and players, and vice versa
Added zombie evoker (only summons evocation fangs)
Added zombie pillager
Added zombie vindicator
Changed charged iron golem health from 100 to 600
Changed supercharged iron golem health from 300 to 1200
Wandering trader now fights back when attacked by players
Wandering trader now fights zombies by throwing potions at them like the witch
Wandering trader now drinks potions depending on the circumstance
Wandering trader now runs faster when avoiding zombies