Mythical Biomes (v1.3)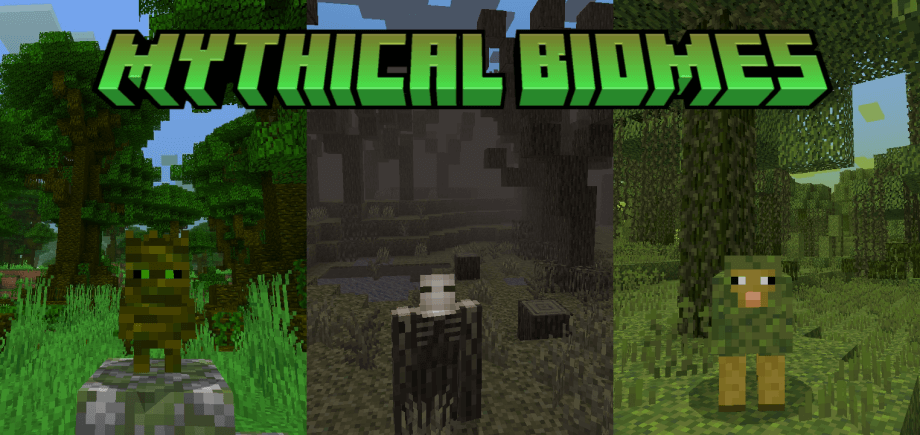 ✧✧✧
Trailer
✧✧✧
Mythical Biomes is a mod that will add some new biomes to your world, that look like a fantasy land. Including new mobs, features & blocks.
Mythical Biomes currently in BETA version due to the Minecraft bugs (MCPE-100700) that affect the custom biome to not generate in the world along with vanilla biomes. So, it had to replace some biome, just to generate new biomes.
✧✧✧

(v1.3)
✧✧✧
BIOMES
MOBS
STRUCTURES
FEATURES
BLOCKS
ITEMS
RECIPES
✧✧✧
Advertisement
Here the Discord server for all my add-ons:
https://discord.gg/5RfKGtQA3S
YouTube channel:
https://youtube.com/channel/UC6AGGpDtm45mhWyCWEjBItQ
Follow me on Twitter:
https://twitter.com/dangel_art/
If you would like to donate to support my work, here my PayPal:
https://paypal.com/paypalme/dangel1111
✧✧✧
Notes
World crash everytime a player consume a custom food in Realm/Server world. (MCPE-171710)
Missing Textures - usually occur in Console / PC, try to put the add-on pack on the top of your global resources.
This add-on will work on the

Realm/Server

, just make sure you install and enable all the experimental gameplay options correctly.
This add-on may only compatible with Minecraft version 1.19.50 or higher.
This add-on is not tested on Beta & Preview version of Minecraft, so expect some bugs if you are using those versions.
This add-on

MAY NOT BE COMPATIBLE

with other biome add-ons.
Remove the old packs before installing the new version of the packs.
If you make a review, gameplay, or showcase about this add-on, please don't forget to give a credit or put the original link (this ModBay page).
Do not provide the direct link (mediafire) or any other download link that I didn't provided.
✧✧✧
Download Guide
1. Click the download option below "Mythcal Biomes (v1.3) [BP]". It will lead you to the Boostellar site.
2. In Boostellar site, find and click the "Click on Ad".
3. An ads articles will pop up. After a 10 seconds just go back or close the ad page.
4. On Boostellar site again, find and click the "Unlock content". This will proceed you to the Mediafire site.
5. On Mediafire click the download button to download the file.
✧✧✧
Installation Guide!
Make sure that you install the both behavior and resource pack of the add-on in your world.
Don't forget to turn on all of this experimental gameplay options:
Aternos server installation:
You must enable all of these experimental options before entering your world:
Download the both "Behavior Pack [BP]" and "Resource Pack [RP]".
✧✧✧