Healing Campfire
Healing Campfire creates an area around the campfire where players will receive regeneration effects. This addon uses the original Campfire from Minecraft and does not use any new blocks. This addon gives the impression of playing an RPG game. I suggest you disable natural regeneration to make your adventure more challenging!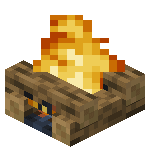 Features
Gives a regeneration effect to players within a 3 block radius of the campfire.
Campfire:
Soul Campfire:
Screenshots
Video
This addon does not require any experimental options!
Terms of Use:
Don't claim this resource pack as yours.
If you review it on youtube, direct the link to MCPEDL/ModBay.
Don't upload this resource pack on other websites without my permission.
Don't relink.
Don't steal my codes.
This addon was created by fieryabyss