Wonderful Creatures Addon V1.0.0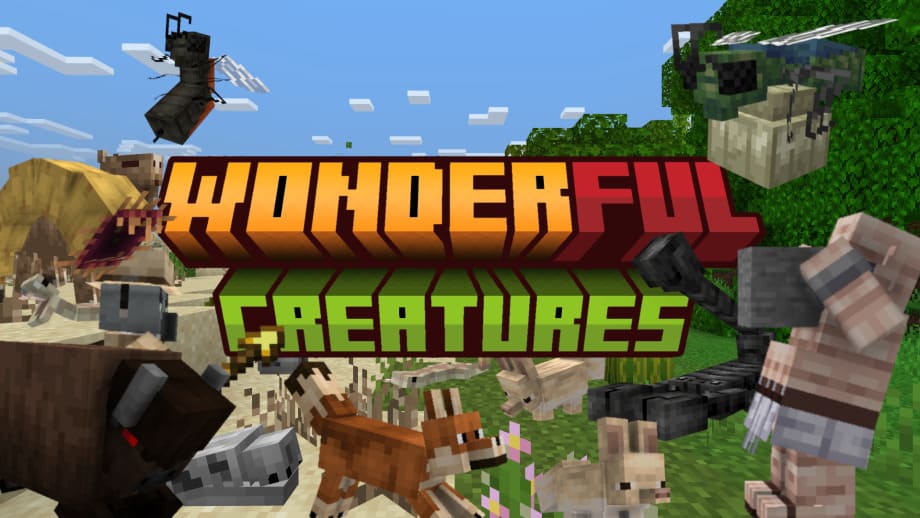 Have you wanted to have more animals and wonderful creatures in your Minecraft world? Well, this addon is for you! Wonderful Creatures is an addon that adds a variety of animals and fantastic creature.
This version is linked to the desert, the team thought that it was the most forgotten biome in Minecraft, so we decided to improve it, adding small improvements, blocks, structures and mobs. From oases that are rare to find, to trees in the desert and T-Rex skulls.
Generation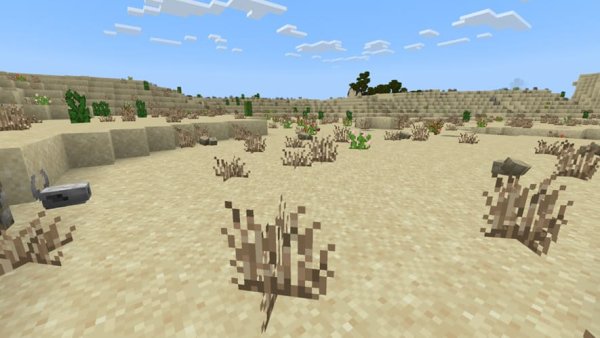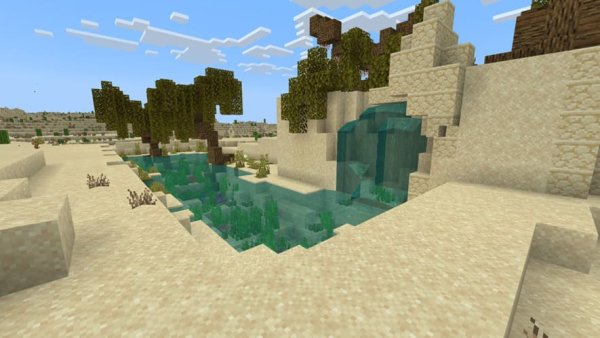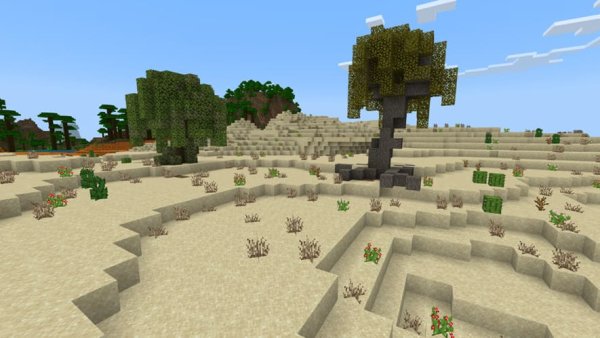 Mobs
Buffalo
The buffalo is a very common mob in the desert, it is neutral, if you hit it is will get angry and the other buffaloes will also enter a state of aggressiveness, when it is angry, it will attack any mob except those of its kind, also when it is aggressive it will break the wooden fences. This one loves cacti, if it collides with a block of easter cactus it will destroy it and go for it dropped item and then put it in its mouth and turn it into a bare cactus and then eat it, it regenerates with bare cactus and reproduces with wheat.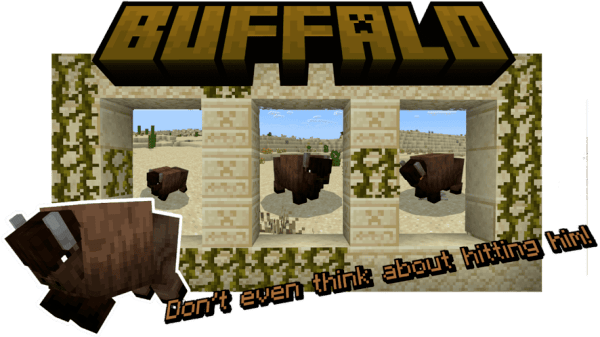 Bactrian Camel
The Bactrian camel is a neutral and tameable mob, it is tamed like a horse and a chest can be equipped, it is recommended for traveling through the desert, this is the favorite transport of wanderers. He also loves cacti, if he collides with a block of easter cactus, he will destroy it and go after the dropped item and then put it in his mouth and turn it into a bare cactus and then eat it, it regenerates with bare cactus and reproduces with wheat.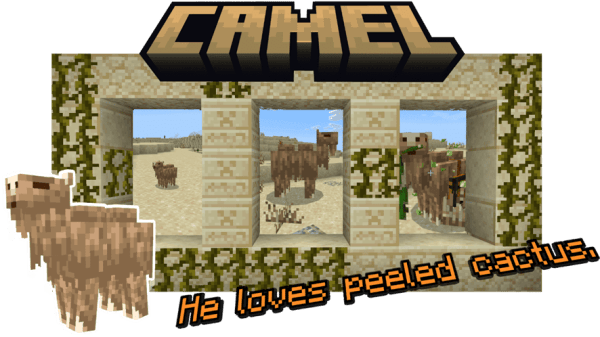 Canis Simensis
The canis simensis is a desert wolf, but it cannot be tamed, this mob will help you with the dangers of the desert, but it will also attack passive mobs to feed on their meat, they appear in packs or alone, when they appear in packs the leader comes out which is the largest canis simensis of all and also leaves a mark of who is its victim, this mob is neutral and if you attack one they will all attack you.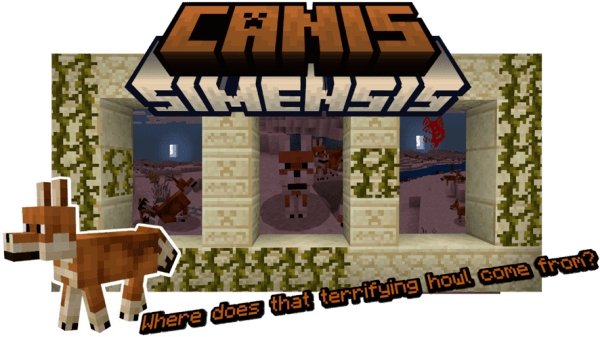 Death Worm
The death worm is a desert worm that appears at night with little probability, this worm is dangerous for travelers, it appears showing its tail that looks like a dead plant, but if you get closer it will show its true nature. (It does not have a drop currently).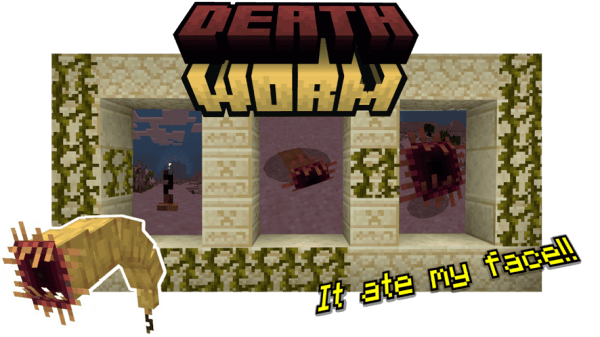 Emperor Scorpion
The emperor scorpion is an arachnid that appears in the desert at night, it will attack the player wither at night, when it is day it becomes neutral and hides in the sand until it is night again, it can be tamed with the golden beetle, it will follow you, and you can ride on top of it, when it is tamed, it will attack the one you hit.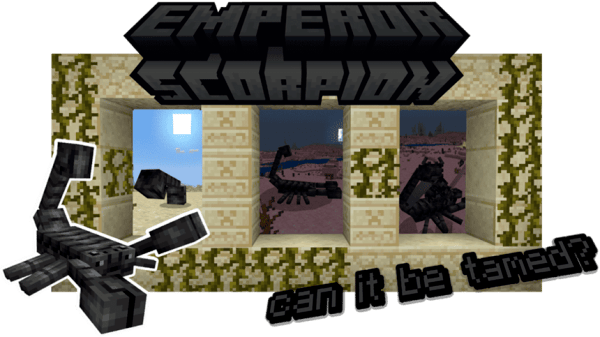 Fennec
The fennec is a passive mob that appears frequently in the desert, this mob is scary and will hide in its burrow, it will peek out to make sure there is no one to get out, if there is someone it will hide again, if it does not find a burrow to hide, it will create a new one and then hide there. At night his eyes shine and if you kill him, he drops his meat. Only 4 fennecs fit in the burrow.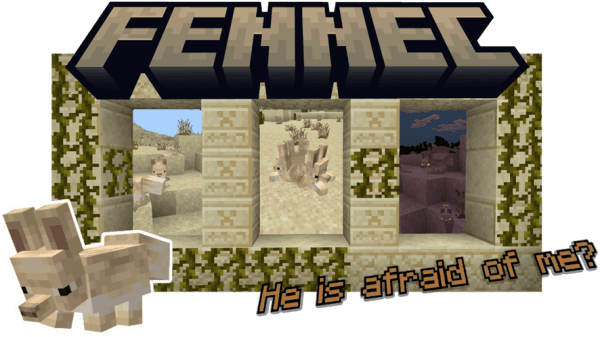 Rattle Snake
The rattlesnake is a somewhat dangerous mob from the desert, it hides in a stone that is generated by the desert, if you step on it or interact with it, the snake will come out and want to attack you, it will poison you and attack other mobs in the addon. It also appears at night, but with rare probability.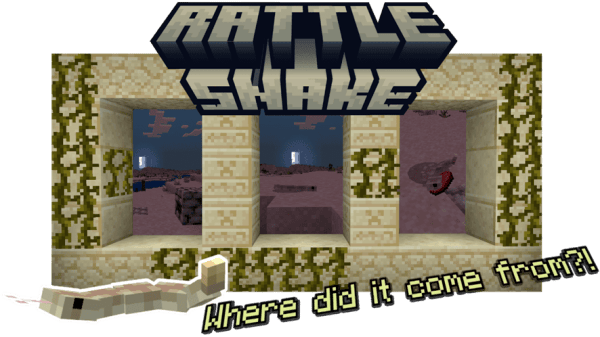 Tarantula Hawk
The tarantula hawk is a dangerous mob of the desert, this insect will attack most mobs and causes poison, it appears with some frequency and can appear carrying an egg which will throw it at you, and if it hits something, 3 larvae will come out which you can interact with them to turn them into items and keep them to eat them or to make a larva soup with mushrooms, if you don't do that they will attack you and over time it turns into a cocoon that deals contact damage, if it spends a long time the cocoon will turn into a hawk tarantula. The tarantula hawk has a jungle variant.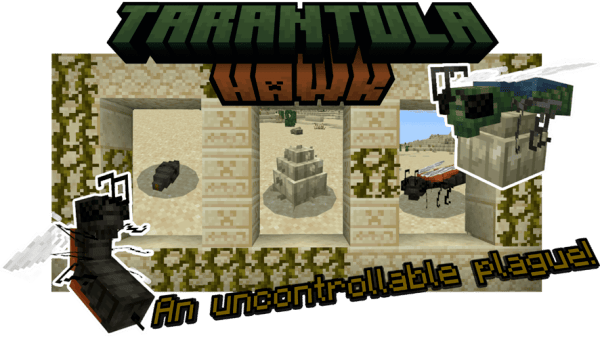 Wanderer
The wanderer is one of the greatest dangers of the desert, it appears in a camp that is somewhat frequent in the desert, it also appears in groups of 4 or less, either mounted on a camel, carrying a baby camel on a rope or alone with a bit low probability, these have a long range and will attack you melee or from a distance if you are far away.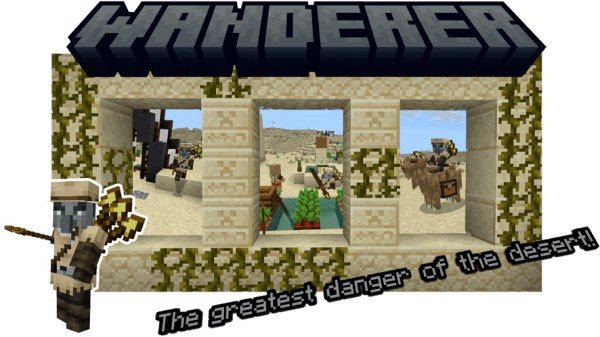 MiniBoss
Cyclops
The cyclops is a mini boss of the addon, it will appear in a cave inside a mountain which appears in the world except in the desert and other places similar to the desert. He will appear sleeping and protecting a chest which contains a valuable item, when he is awakened, he will give a piercing scream and begin to release his anger, he will attack you in a melee way, from a distance that a stone throws at you and the most brutal way to finish with you that is devouring you, it will hold you and then kill you with a bite and then regenerate.
When you defeat him, he will drop his head and, with a very low probability, the cyclops sword.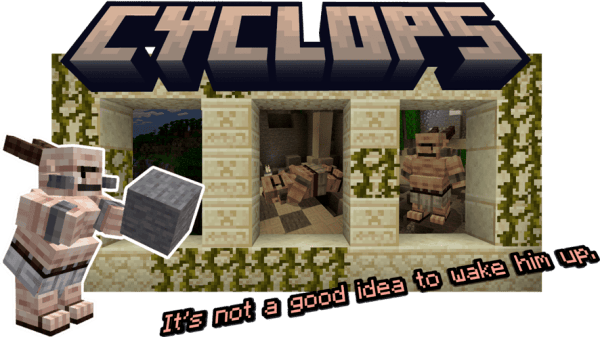 Items
Cyclops Head
The cyclops head is dropped by the cyclops, it is just decoration.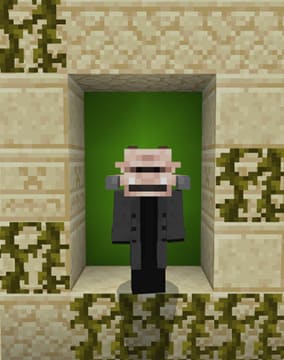 Cyclops Sword
The Cyclops Sword is dropped with a rare chance by the Cyclops, this sword does 9 damages and cannot be enchanted.
Skills:
Cyclops famine: Each hit to a mob will give you regeneration 2 for 5 seconds and saturation that fills you a thigh.
Scream of the Cyclops: When interacting with the sword, it will let out a scream that will push the mobs back.
Stone Burrow: When interacting and crouching, you will be surrounded by stone, basically protecting you.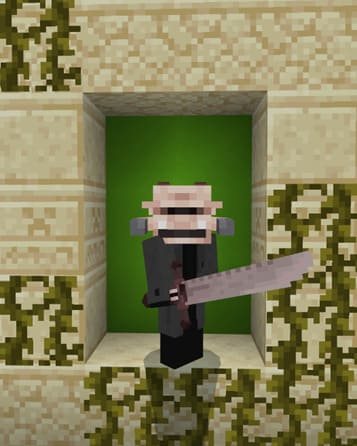 Rattle Snake Skin Hat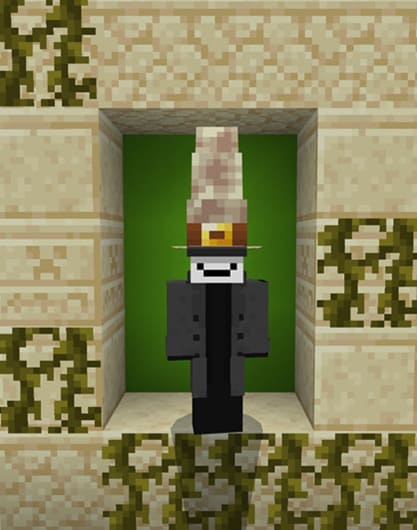 The rattlesnake hat is just decoration, it can be crafted with rattlesnake skin and gold: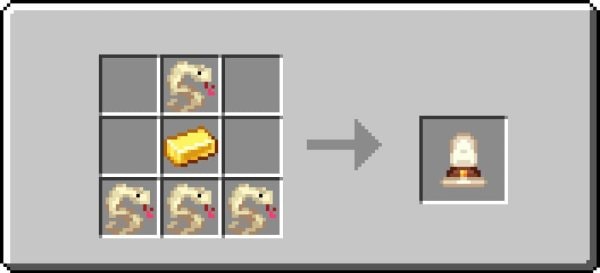 Buffalo Hide Armor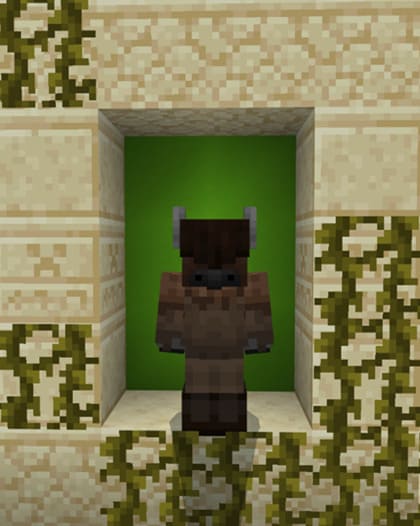 The buffalo fur armor protects more than a normal leather one, this can be crafted less the head, the head is obtained from the buffalo with little probability, the crafting is done with buffalo fur and leather and is as follows: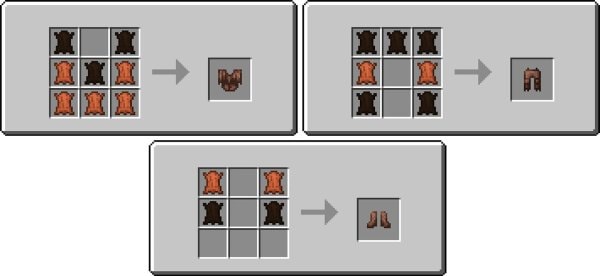 Emperor Scorpion Chitin Armor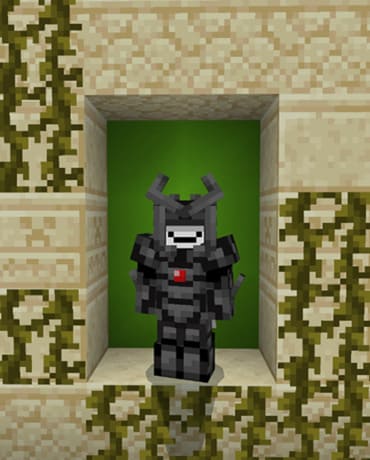 Scorpion chitin armor protects more than iron armor, this armor makes you immune to wither and poison, it is crafted with emperor scorpion chitin that is dropped by the emperor scorpion and the crafting is as follows: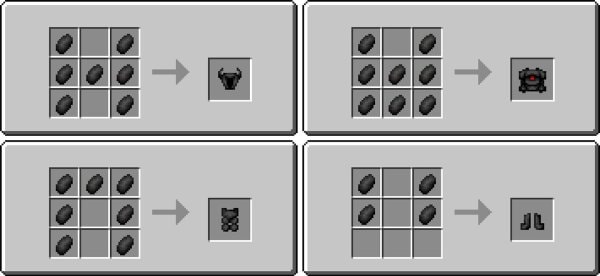 Desert and Jungle Tarantula Hawk Chitin Armor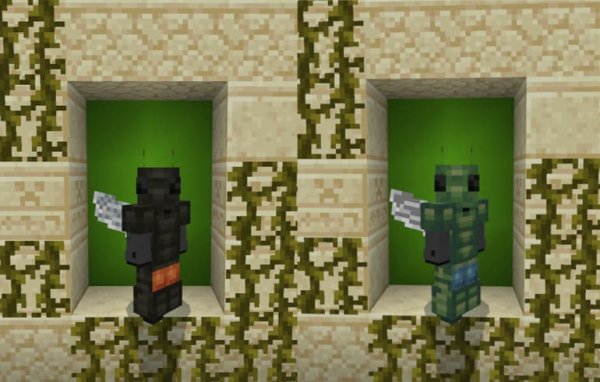 The tarantula hawk's chitin armor protects more than an iron one, it gives you a slow fall when you're not stepping on anything, it's crafted with the tarantula hawk's chitin depending on the biome in which you've defeated it, the crafting is the same and is the following: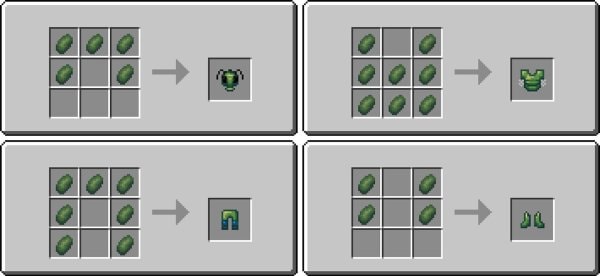 Sting Sword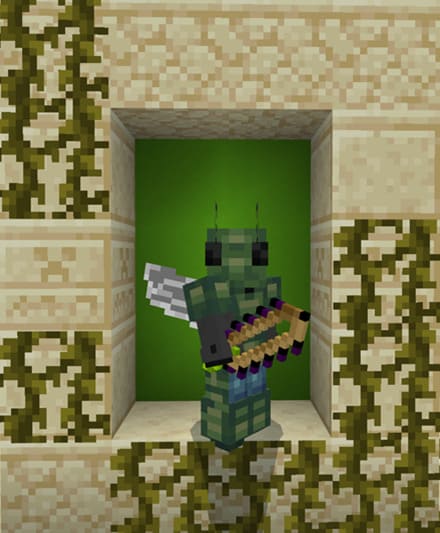 The sword of stings is a sword that gives poison to whoever hits and does 6 damages, it can also be enchanted, it is made with the stings dropped by the tarantula hawk, wood and a stick and the crafting is as follows: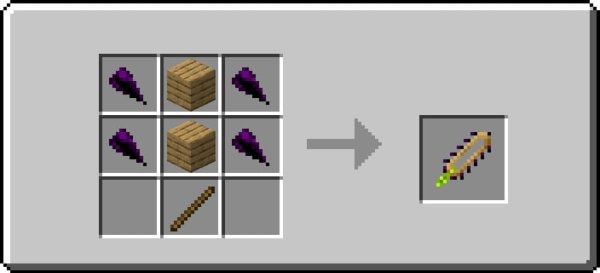 Spear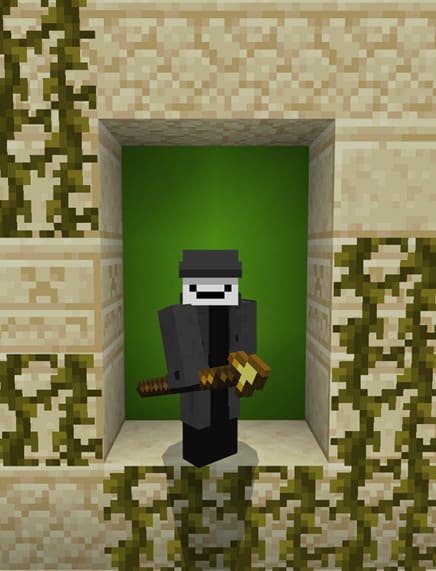 The spear is obtained in the chests that are in the camp of the wanderers, it does 6 damages and can be thrown, it cannot be enchanted.
Beetle Pendant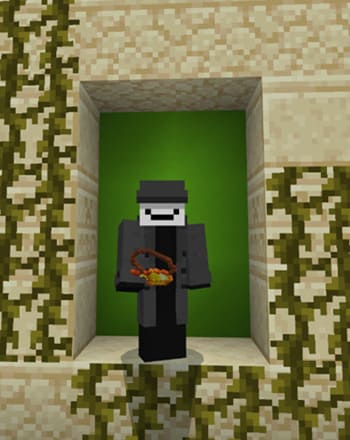 The scarab pendant is a very useful item, when it interacts it gives you strength 2 and regeneration 2 for 30 seconds with a 60-second freeze. It is crafted with the golden beetle that is obtained in the chest that is in the cave of the cyclops and thread. It is crafted as follows: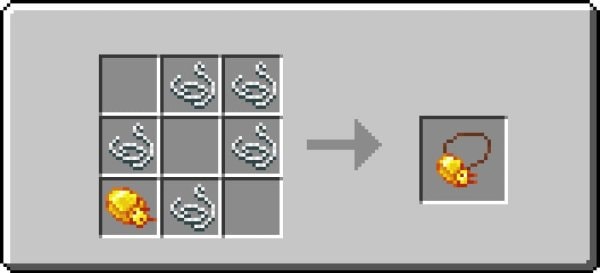 Aloe Vera Essence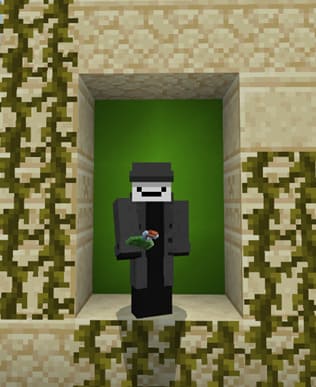 The aloe vera essence is an important item, it will have many more uses in the future, it is obtained by combining aloe vera with a bottle, the aloe vera is obtained by destroying this plant: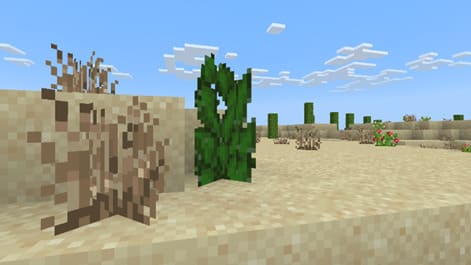 The craftings is as follows: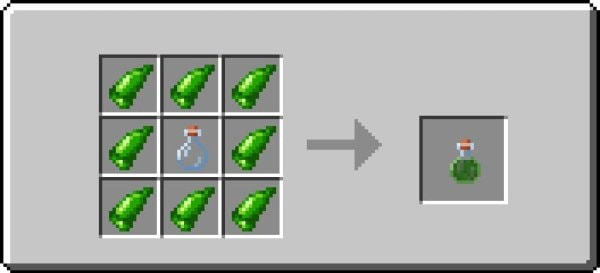 Stage Two Beetle Pendant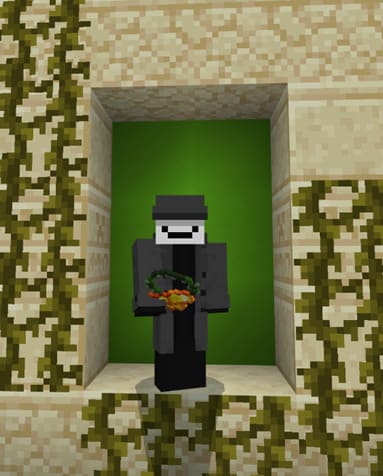 The beetle pendant has an improvement when combined with the essence of aloe vera, this will now give you strength 3 and regeneration 3 for 60 seconds when interacting with a 60-second freeze. The crafting is as follows: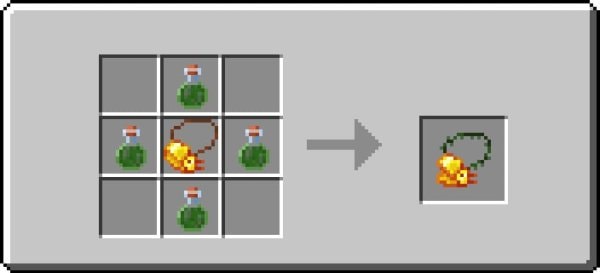 Peeled Cactus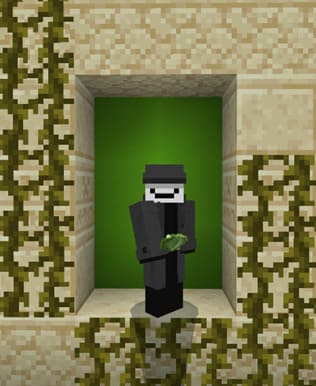 The bare cactus is the easiest food you can get in the desert, it is achieved by putting a cactus, lilac and red easter cactus on the crafting table, something like this: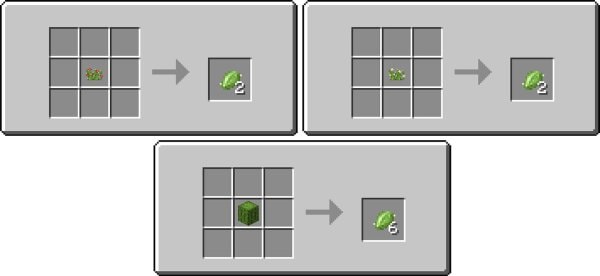 Larvae Soup With Mushrooms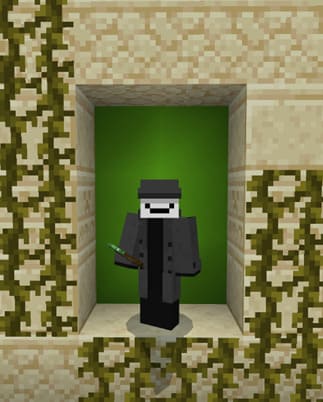 This soup is made by combining tarantula hawk larvae, mushrooms and a bowl, this will give you strength 2 for 30 seconds in addition to feeding you well, it's crafting is as follows: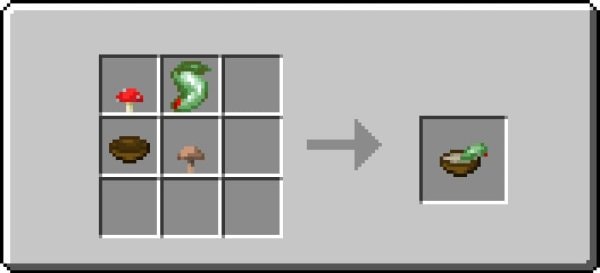 Cooked snake meat and Cooked fennec meat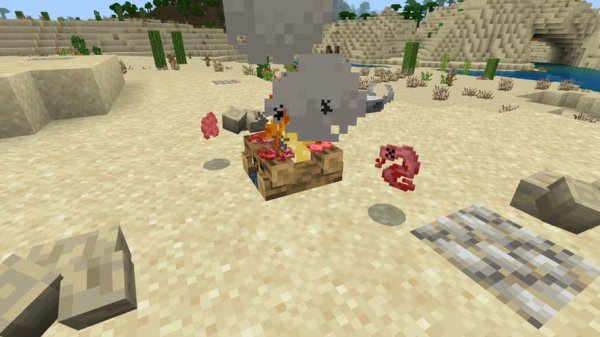 These meats are obtained by hunting rattlesnake and fennec, it is a good food source to survive in the vast desert.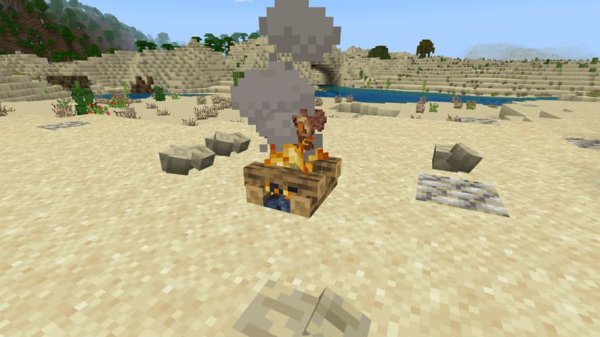 Other crafts
Desert Rock: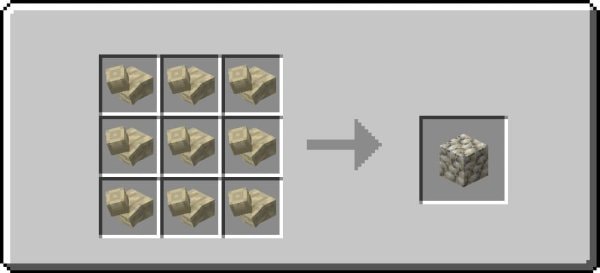 Pile of Stones: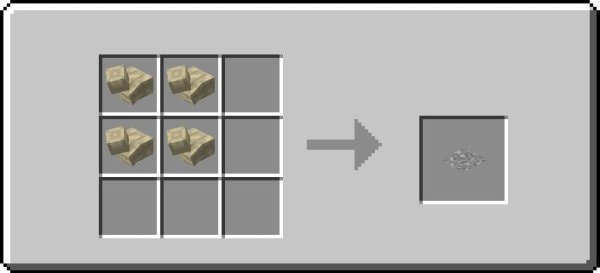 Seeds
If you want to feel the experience of the addon well, I recommend these two seeds:
1767920439309221120
3890449159434831183
Important!
Structures can spawn a bit poorly, but it's already a miracle to spawn structures in these looted versions of minecraft.
It doesn't use player.
The addon has ads and we would like you not to put the direct link if you are going to review it, since it would greatly affect the development of the addon and the studio.
This addon will only be found in Mcpedl and Modbay, if you find it in other pages it is because they have stolen it from us.
Forbidden to use the models and textures of the addon in other addons.
Important for the addon to work well!
Please report any errors on the Death King's Studios discord server, to fix it as quickly as possible and have it fixed for the next update. I recommend that you give your ideas and suggestions on the discord server since we are more active there and we can read you faster.
Discord server: https://discord.gg/WKHAwsPE2N
Credits:
Addon created by:
Death King (Modeler and Leader): https://www.youtube.com/@deathking1167/featured
PetergamerXD (Encoder): https://www.youtube.com/@petergamerxd9400/featured
Axelpvz2030 (Encoder): https://www.youtube.com/@user-pt6kg7th8t/featured
REGV (ExModeler and Texturizer): https://twitter.com/REGV_TX
Aleg199546 (Modeler and Texturizer): https://www.youtube.com/@AleG19MC/featured
JustPixel206 (Modeler and Texturizer): https://twitter.com/206Pixel
Duckling (ExModeler and Texturizer): Duckling#1255
EL_CORDERO_XD (Creator of Structures): https://www.youtube.com/@elcorderoxd9701/featured
ウォースパイト(Animator): ウォースパイト#5461
Facunau (ExCreator of Structures): facunau50#7115
Rimestor (Texts and logos): Rimestor#3246
Mijo (Texts and logos and addon logo creator): 🧣 Mijo#4711
Gian(ExModeler and Texturizer): https://www.youtube.com/@gian7491/featured
ChiffonMedal(ExModeler and Texturizer): ChiffonMedal#2427
kylefress(ExAnimador): kylefres#0784
Videos
Thanks for reading 😊