Radium's Armament v1.2 - BETTER Zombies & Zombie Crawlers!
A new and very realistic addon with various guns for your Minecraft world. 100% survival friendly, 12 guns, a grenade, targets, custom zombies (headshot detection), natural spawning of said zombies, gore/dismembering, physics, several custom blocks, an insane amount of animations, loads of visual effects, two game modes, and many other small details/features for these things.
WARNING:This will ONLY work in Minecraft versions 1.19.81+
Add-on features:
100% Survival friendly
12 guns
Grenade
Targets
Radium Zombie
Physics
Gore/dismembering
Several custom blocks
Insane amount of animations
Two game modes
Table of Contents
Info
If you plan on showcasing this addon, please ONLY use my links I provide here and tag my YT in the description. DO NOT create your own links and/or claim this as your own creation. Thanks :)
Toggle these Experiments in world game settings:
Short Sneaking
Holiday Creator Features
Beta APIs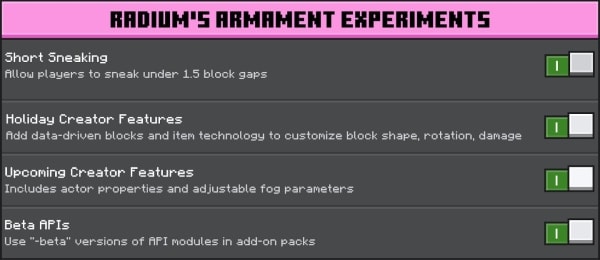 Game settings:
Paperdoll: OFF;
FOV to "70-80",FOV can be altered by gameplay;
View bobbing: ON
Camera-shak: ON
If you are playing on a low-end device, and are experiencing lag in your survival gameplay, toggle the Radium Zombie spawns to only be at NIGHT or OFF in the BP settings! This will improve performance!
- Radium
Permission for ModBay:

Videos
v1.2 update video:
List of Guns
Guns currently available:
AK47
Golden AK
AWM
Citori 725
M4A1
RA MX115
M79
Meat Grinder
P250 Compact
P90
Thunder Gun
Remington 870 (from v1.2)

Reloading
Reloading starts automatically if the gun magazine is empty. At the same time, there should be a magazine for the gun in your inventory.
You can also hit (left-mouse-button) to start reloading.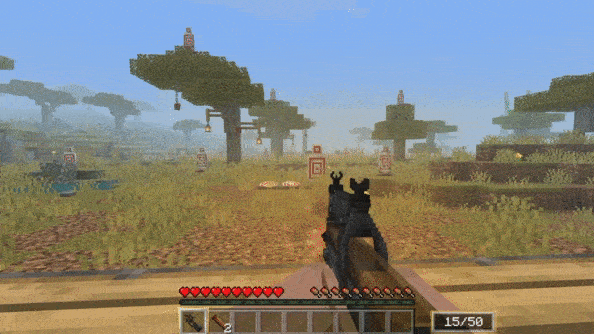 Each gun requires a certain type of ammunition.

Throwable
Currently, only one throwing weapon is available - a Grenade.
(the GIF image was accelerated)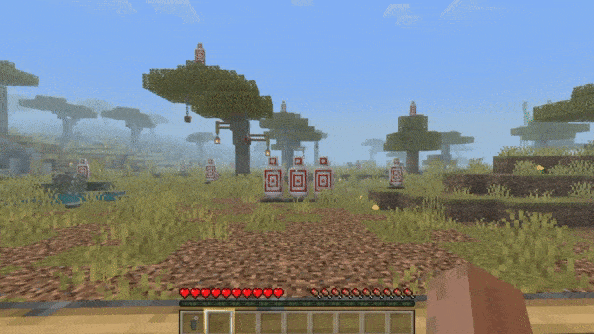 Pay attention to the timer near the hotbar on the right. If the timer expires, and you don't throw a grenade, it will explode in your hands! Careful!
(the GIF image was accelerated)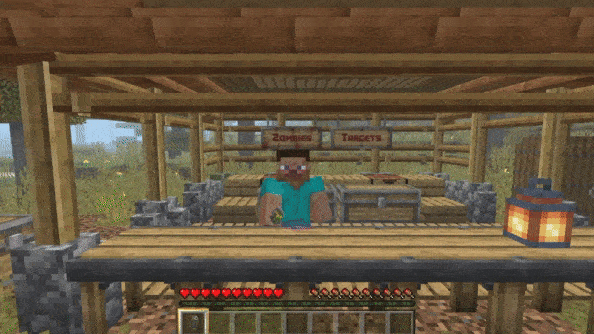 Other
Most guns have a sight that is activated when the player is sneaking.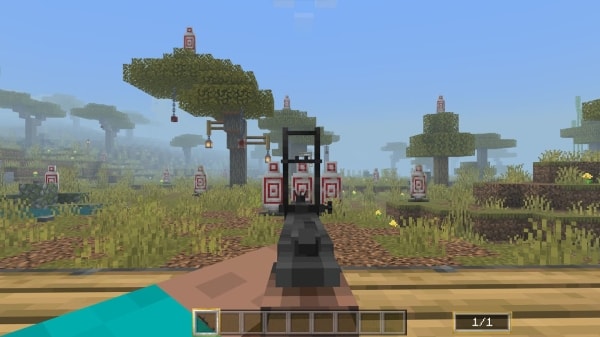 Custom Zombies
Currently, only one. Some parts of this zombie react to projectiles.
Targets
Targets are available. They react to the hit of any projectiles, including vanilla projectiles (like bow arrows).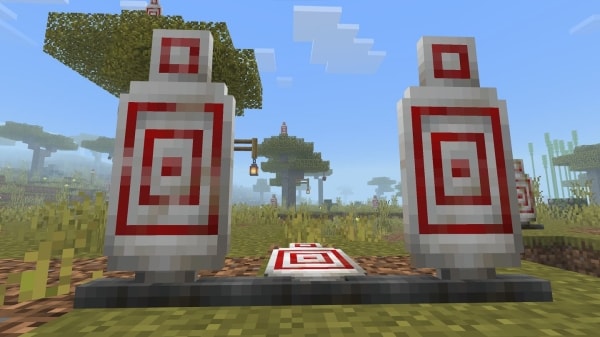 It can be created by a Zombie Head Target egg. The model is randomized.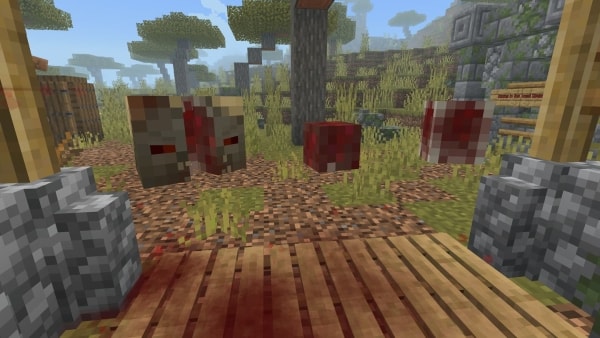 Recipes
Custom recipes are available including new material, ammo and blocks.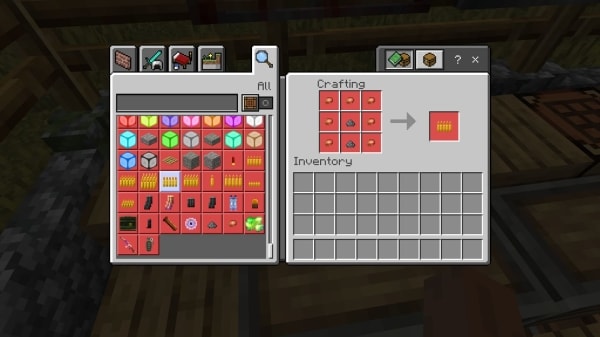 Additional
When you have activated the Behavior pack, you can choose Radium Zombie spawn mode:
Deactivate Spawning
Night Spawning
Day;Night Spawning (by default)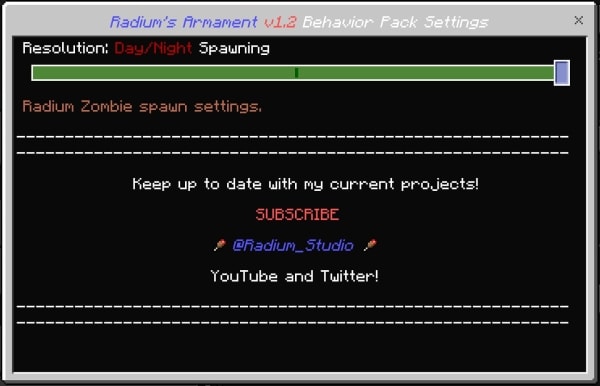 If you want the bullets to break blocks, like glass, and explosions to make holes/break blocks, turn on MOB GRIEFING in your game settings.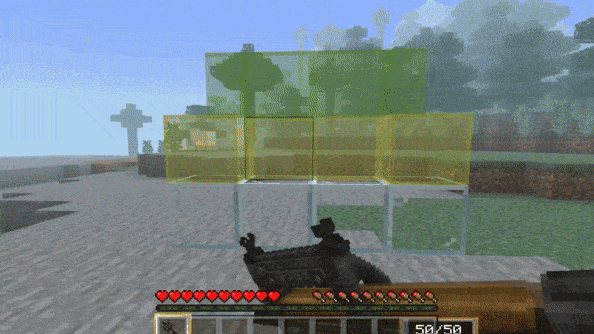 So far, I've spent at least 400-500 hours over about 6 months making this addon for you! I hope you enjoy my first version of Radium's Armament !! I know, the links do have ads, but I thought that would be okay for you guys to spend an extra minute or so on the ads as a little compensation for my effort in making this free addon! ❤
- Radium
Updated on May 15
Hello everyone, this is an exciting update! Many new features, animations, more gore, new shotgun, bug fixes, and much more!