UPDATES
✧✧✧

✧✧
Oak Wood Mineshaft
Oak Wood Mineshaft currently will generates under the Plains, Forest, Birch Forest, Dark Oak Forest, Flower Forest, Swamp, Mangrove Swamp, Jungle, Savanna, Desert, Badlands, Mushroom Island.
✧✧
Spruce Wood Mineshaft
Spruce Wood Mineshaft currently will generates under the Snowy Tundra, Mountains, Cherry Grove, Meadow, Grove, & Taiga's biome.
✧✧
Ancient Mineshaft
Ancient Mineshaft currently will generate in all of the underground level.
✧✧
✧✧✧
MOBS
✧✧
Miner Skeleton
(10 variants)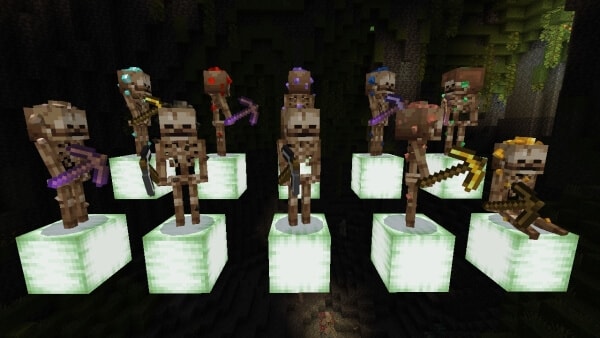 Hostile Mob.
Spawn only inside the new Mineshafts.
Health: 20-32
Drop: Bone, Coal, Raw Copper, Raw Gold, Raw Iron, Redstone, Lapis Lazuli, Amethyst Shard, Emerald, & Diamond.
Weapon: Pickaxe
Equipment: Random Helmet
Attack Damage: 3
Aggressive To: Players, Crates Trader, Iron Golem, Snow Golem, Villager, Wandering Collector, Wandering Trader.
Burn in daylight: YES
✧✧
✧✧✧
Advertisment
✧✧✧
Notes
This add-on will work on the Realm/Server, just make sure you install and enable all the experimental gameplay options correctly.
This add-on may only compatible with Minecraft version 1.20.30 or higher.
This add-on is COMPATIBLE with other add-ons.
Remove the old packs before installing the new version of the packs.
If you make a review, gameplay, or showcase about this add-on, please don't forget to give a credit or put the original link (this ModBay page).
Do not provide the direct link (Icedrive) or any other download link that I didn't provided.
✧✧✧
Download Guide
1. Click the download option below "Nico's More Mineshaft (v1.3) [BP]". It will lead you to the Boostellar site.
2. In Boostellar site, find and click the "Click on Ad".
3. An ads articles will pop up. After a 10 seconds just go back or close the ad page.
4. On Boostellar site again, find and click the "Unlock content". This will proceed you to the Icedrive site.
5. On Icedrive click the download button to download the file.
Installation Guide!
Make sure that you install both the behavior and resource pack of the add-on in your world.
Don't forget to turn on all of these experimental gameplay options:
Aternos server installation:
You must enable all of these experimental options before entering your world:
Download the both "Behavior Pack [BP]" and "Resource Pack [RP]".