Pet Furniture | 1.6 | Horse Feeder Update 1.19.70
Each of us has at least once got a pet in Minecraft – tamed a cat or a dog. Unfortunately, there are no decorative blocks for them. This addon adds about 80 new decorative blocks that are dedicated for dogs, cats, and birds. Now they can have their house, meow!
For some blocks such as doors you have to place the door on the block above where you want the door, and for cat scratchers it is advisable to test their collisions before placing a cat (to know where to aim).
Info
Creator: Trotamundos872
Enable the Holiday Creator Features to use this Add-on
You also need to activate the Block-Geo Fixer pack, otherwise the models and textures of the blocks will be broken.
Permission for ModBay:
How to get it?
They are easy to get in creative mode.

In survival mode, you can put a block of clay in the Stonecutter to get the necessary block.
Or use the chat command /give @p pf:<block name> to get them.
New Pet Blocks
Dog kennels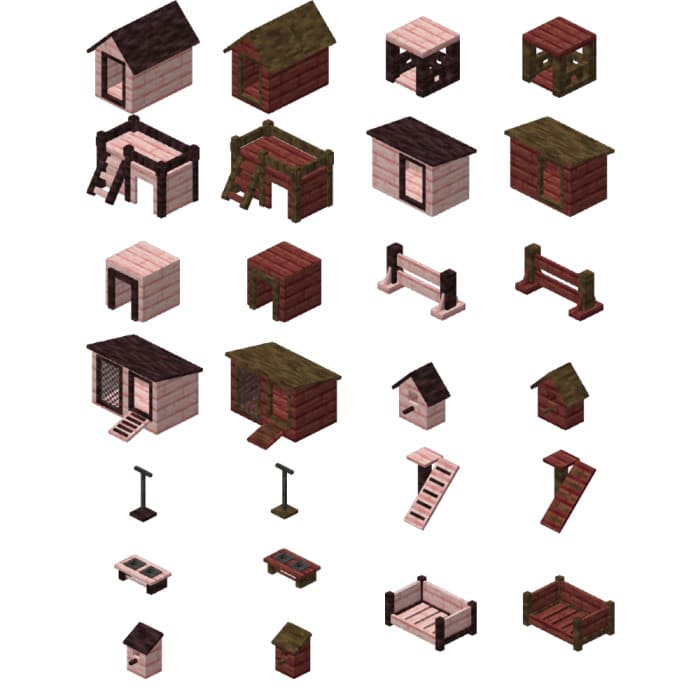 Pet gate
Scrapers
Ways to use the blocks
List of blocks:
Cat Scratcher
Catwalk
Bird House
Pet Door
Parrot Shelf
Feeder
Hen House
Dog's House
Cat's House
Dog Bed
Litter Box




Updated on April 21
The mod is being prepared to add the 2 new woods, in addition, we have added a new block, the horse feeder! There are other changes in the organization of the files, all the changes will appear below
The mod has been updated to 1.19.70
Added Blocks:
Added oak feeder for horse
Added acacia feeder for horse
Added fir feeder for horse
Added jungle feeder for horse
Added Dark Oak feeder for horse
Added birch feeder for horse
Added warped feeder for horse
Added crimsom feeder for horse
Internal Settings:
The order of crafting in the structure box has been changed, the names of many blocks have also been changed, it is possible that many pieces of furniture have been corrupted
Cherry wood and mangrove textures have been added, you will be able to see them added in the debug settings