EndXenoc
upd:
Medieval Furniture Addon V5.2 (Updated for 1.20.40)
Revamp your Minecraft surroundings with a touch of medieval charm. This Addon introduces an array of default-textured blocks, including tables, cozy chairs, and a diverse range of furniture pieces to elevate your gaming experience.
Video Showcase
This addon introduces a plethora of new wooden blocks, including chairs, tables, and various other furniture pieces. Each block is compatible with resource packs and features crafted 3D models. Some blocks also incorporate textures from Minecraft, offering a seamless medieval furniture experience for decorating your homes
The addon works on version 1.20 and later versions. (You can test the addon on older versions, but some blocks will not work properly).
To use this addon, you must activate the experimental gameplay in the map settings.
Please, if you share this addon in any social network, you must leave credits and the link of this page, do not use direct links.
How to Get the Blocks
To get the blocks in creative you have to use the command /function medieval_house. And the next house will be generated with all the blocks inside.
List of Blocks
Handsaw
It is used to change the state of some blocks.
Now to make all the blocks, you have to create the new workbench: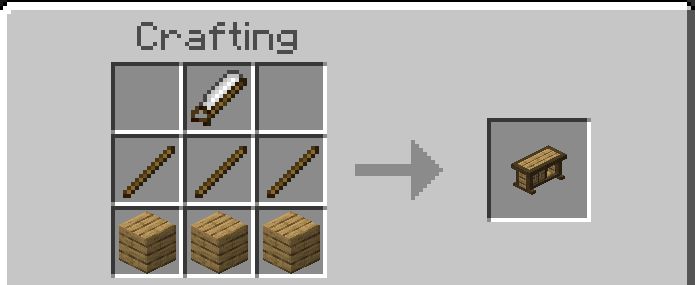 Decorative Sticks
Book Shelves (Will be changed in future versions)
Boxes
Barrel (Has inventory)
Bowls
Buckets
Baskets
Walls & Roofs
Tables
Stands
Fences
Fence Gates
Stools
Chairs
Vessels
Books
Beams (Planks Beams Added)
Cupboard, Drawers, Cabinets (Have inventory)
Saddle Stand
Flower Stand
Pillars
Bridge
Gramophones
Clothing

Expandable Tables
Weapon Stand
Window Doors
Wooden Stairs
Bars
Chandeliers
Braziers
Smokestack
Beds and Carpets
Toilets
Streetlight
TV (Decorative)
Glass Coffee Table
Carts
Screenshots

Use Experimental Gameplay Options

Thank you so much to Yang and YYX for creating the Chinese translation.
Updated on November 07
Now to remove the items you have to interact while crouching and empty-handed (barrels, tables, bowls, buckets, and baskets).
Languages ​​added: Spanish and Chinese.
All blocks were added with cherry wood and bamboo blocks.
Bugs with chairs have been fixed.
Added the crafting recipe for the toilets
Streetlight, TVs, carts and a new table were added.
Added crafting recipes for all beams and toilets
New crafting table added
Updated for 1.20.40
Rescaled model of the hanging chandelier
Changelog for September 05 / Version 5.0 / Old Update
Changelog for May 17 / Version 4.2 / Old Update
Changelog for April 13 / Version 4.1 / Old Update
Changelog for February 23 / Version 4.0 / Old Update