Microwave
upd:
Microwave's Illagers! (BETA) [Discontinued]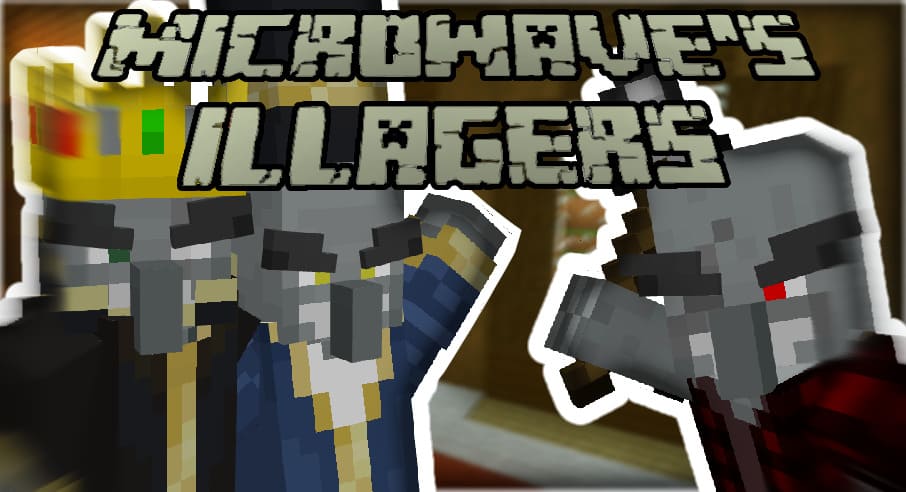 Do you like Illagers? Do you wish that there were more Illagers, and possibly even Illager bosses to conquer? Then this add-on is just for you!
(This add-on was inspired by Yellowbross' Illage & Spillage Mod)
Here are all the Illagers currently added to the Add-on:
Normal Illagers:
(None currently)
Bosses:
Afflictor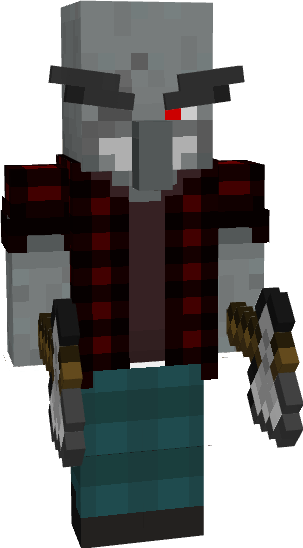 "An Illager with an axe addiction, loves to cause pain and suffering towards Villagers as he has a deep hatred towards them."
Health: 400
Damage: 10 (Basic)
Abilities:
Axe Barrage: Throws a barrage of small axes towards the target, deals 8 damages for each axe. Very hard to dodge, it is advised to stay far away when this attack happens.
Axe Throw: Throws 4 axes, deals 16 damages, however it can be easily dodged.
Spin Dash: Afflictor does a stance, and then after a few seconds, he dashes towards you, this attack deals 20 damages and can sometimes be a menace to dodge.
Evoking

"The old King of the Illagers, known to be very cruel towards his citizens. Specializes in summoning fangs and vexes and has a loyal pet Ravager."
Health: 560
Damage: (Depends on the summoned entity)
Abilities:
Evocation Fangs: Summons in evocation fangs, these can deal a lot of damage if you're caught off guarded.
Vexes: Summons in 9 Vexes that disappear after 20 seconds, can easily swarm and destroy you if more are summoned
Creexes: A fusion between Creepers and Vexes. Summons in 9 of them. Will explode IMMEDIATELY after contact. Does not disappear.
Loyal Ravager: Summons in his loyal Ravager for him to mount. This beast cannot be killed or knockbacked, deals 24 damage, faster than the average Ravager. However, it disappears after a certain amount of time.
Fulminator

"An Evoker who specializes in Lightning, capable of turning entire villages to a witch village with his with his power."
Health: 220
Damage: 20 (+ Burn Damage, Explosion Damage)
Passive: Heals from Lightning
Abilities:
Lightning Strikes: Either summons a line of lightning, a circle of lightning (cyan particle) or he summons 4 lightning bolts down upon you (orange-ish particle), these deal immense damage so watch out.
Heal: Strikes down 4 lightning bolts down upon himself to heal, this can be indicated when he has white summoning particles. Outdo the heal by damaging him constantly.
Lightning Spirits: Summons in a few humanoid creatures with an electrical appearance, run away from them or kill them before they explode.
Samurai Illager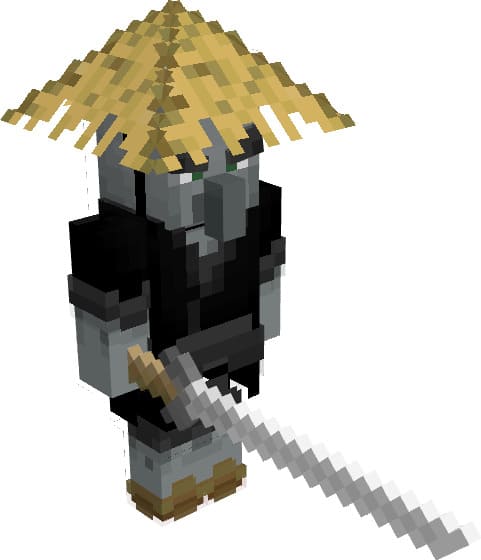 "The Samurai Illager has mastered the art of the blade, and his life is built around the code of the Samurai. He is a formidable force to be reckoned with, feared and respected by those who knew of his existence."
Health: 800
Damage: 12
Passive: Block, Projectile Immunity (Block)
Abilities:
Dash: Does a stance, then dashes at the target, if he successfully gets close to the target, he swings his katana. Deals 20 damage.
Upper Slash: Does a stance slightly different to the Dash stance, very slightly dashes forward and swings the katana up with fierce force. Deals 32 damage. This attack also has a chance to happen if you damage him with non-projectile weapons.
Air Slash: Swings his katana and shoots out an Air Slash. Deals 10 damage and pulls the target away, lasts for 3 seconds, cannot be blocked.
Impale (Upcoming)
Backflip (Upcoming)
Megabosses
(None currently)
Updated on September 24
PROJECT IS DISCONTINUED! A rework is under way.