PrincePandaman
upd:
Food Info: Extended

Wouldn't you like to know what you're putting in your mouth? Well, stop tossing things down your pie hole and use this pack! Unlock the knowledge of what you're scarfing down like a rabid beast!
This resource pack enables you to see exactly how much your next meal will satisfy your belly while also showing what it'll do to you!
While holding food, you will see more extended information, like how much hunger is filled if you are hungry and what status effects will affect you.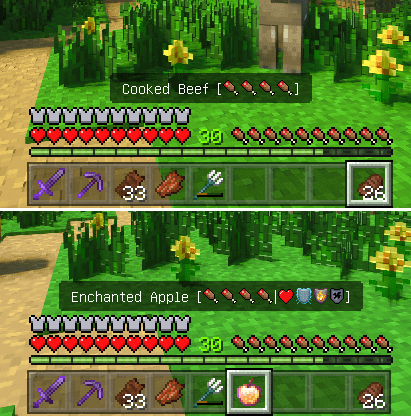 This pack comes with two modes:
Icons: shows all icons
Numbers: truncates the text to show multiples as numbers.

You can choose which to use when applying the pack.
In Icons mode, all information is in the name of foods, including every status effect.
In Numbers mode, you will see 1 hunger shank with a number showing how many it will fill, and status effects will be hidden under a good or bad icon with a number showing how many are applied.
The only exception is Suspicious Stew, which will show an "Unknown" icon due to the nature of the stew.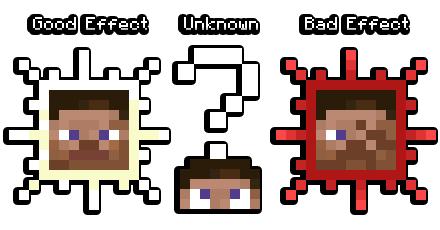 For this resource pack to work, it needs to be at the topmost position of your load order.
Addons Supported:
NOTE: For addon support to function, it must be applied to the world or realm you are playing on, otherwise only vanilla items are affected.
See any mistranslations in your language? Please do let me know! I will update ASAP!
Updated on November 11
EX3 [1.0.3] Change Log:
Added fr_FR language
Added the missing Glow Berries information.
Updated to support VanillAnimals.