TheLake
upd:
𝙱𝚎𝚝𝚝𝚎𝚛 𝙶𝚕𝚊𝚜𝚜 - Compatible to All Versions! (Texture Pack) | Stability Update!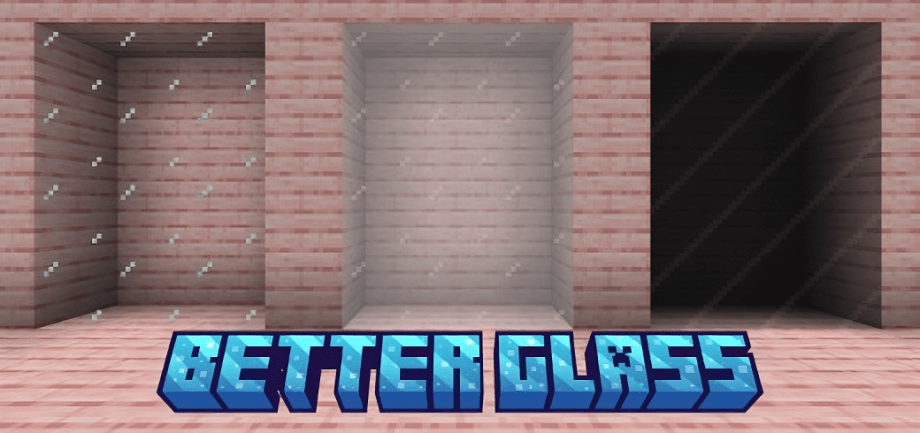 Hello, Minecraft Bedrock Edition community! I'm thrilled to introduce you to a special content that will make your glass blocks more transparent and aesthetically pleasing: the "Better Glass" texture pack! By simplifying the default glass texture, this fantastic content brings clarity to your glass, elevating the atmosphere of your Minecraft world. Dive into an enhanced Minecraft experience with the "Better Glass" texture pack!
The "Better Glass" texture pack completely revamps the appearance of glass blocks in Minecraft Bedrock Edition, offering you 3 unique subpack choices.
🔷 Clear Glass: With the Clear Glass option, only the edges of the glass blocks are retained, while the rest becomes entirely transparent. This creates a bright and airy atmosphere for the interior of your buildings. If you prefer a minimalistic and modern look, this option is perfect for you!
🔷 Connected Borderless Glass: Connected Borderless Glass removes the edges of the glass, leaving the rest of the texture intact. This option provides a seamless look between glass panels and adds a touch of sophistication to your structures. If you desire sleek and uninterrupted glass panels, this is the choice for you!
🔷 Fully Clear Glass: The Fully Clear Glass option makes your glass blocks entirely transparent based on the color they are connected to. This enhances the visibility of the exteriors from the interior spaces, making your buildings more immersive and detailed. This option is particularly useful for showcasing architectural projects.
Warning: The glass in this package is completely transparent, so be careful where you put it!
What you gain with 'Better Glass':
🌟 Elegant and Modern Glass: 'Better Glass' texture pack adds sophistication and modern aesthetics to your glass blocks.
🌟 Enhanced Visibility: Transparent glass allows for better visibility from the inside, providing a clearer view of the exteriors.
🌟 Various Options: Choose between Clear Glass, Connected Borderless Glass, and Fully Clear Glass to customize your structures' glass styles.
How to switch between subpacks?
Check out the pictures below:
If you have any feedback or need additional assistance, feel free to reach out to us. Stay updated with our social media accounts to receive news on the latest updates and content. [Discord]
Updated on November 17
Performance improvements have been made.

Pack has been updated

to the latest version of Minecraft!
Fixed

non-transparency

of glass.
Minor

additions

have been made.

Links have been fixed!
Changelog for November 07 / Old Update
Have Fun!