ESTEBAN1303YT
upd:
Piggy Add-on
Piggy add-on is a minecraft bedrock add-on which adds content from piggy like decorations, items and most important.. the characters.
As extra additions, there is a music pack and alternative textures that include redesigns of certain characters.
Table of Contents
BLOCKS:
Show/Hide
Keep in mind that some of these blocks are merely decorative.
CREATURES:
Hostile:
BOOK 1:
Show/Hide
BOOK 2:
Show/Hide
Extras:
Show/hide
???:
Show/hide
NPCs:
Show/hide
ITEMS: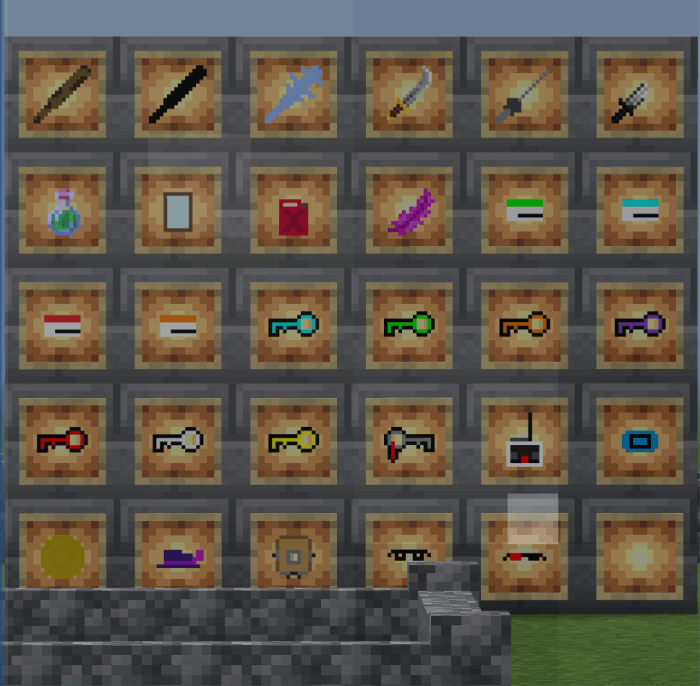 NOTE:
(SOME OF THESE ITEMS DON'T HAVE A CRAFTING)
Baseball bat and black baseball bat: 5 of damage.
Ice baseball bat: 5.5 of damage.
Cutlass: 6 of damage.
Fencing foil: 6 of damage.
Combat knife: 3.9 of damage.
Gas can: is for the car
Magenta feather: is for to craft the zizzy hat
Substance 128: is for infect, or you can drink it yourself, but it will sometimes give you negative effects.
The cure: is to cure some infected, or you can drink it yourself, and you will always get regeneration.
Other items, like keys or keycards are for mapmakers...
COSMETICS:
Show/hide
Vehicles:
Show/hide
Crafting Recipes:
Show/hide
Media:
Show/hide
Videos:
Update Trailer:
Update Review:
Additional Credits:
Gabriel Cape (he made possible the potion effects on hats).
RPorotos (He let me use the mommy texture from Rotten Creatures for Kamosi).
TobicionYT (He helped me to make Tobi model).
Just Mr. Devil (Old Mr. P animations).
Kárma#5923 (Old title screen).
Mojang Studios (Anchor, fencing foil, cutlass textures belongs to minecraft dungeons).
Any glitches or suggestions use my Discord Server :)
Requred Experiments:
REMEMBER TO ENABLE THE EXPERIMENTAL MODE
HERE IS AN EXAMPLE:
Updated on November 08
New Content:
Added Budgey (INFECTED)
Added Mimi (INFECTED)
Added Giraffy (INFECTED)
Added Kitty (INFECTED)
Added Daisy (NPC/INFECTED)
Added Tobi
Added Willow (NPC)
Added Carnival Hammer (Clowny weapon).
Added Badgy (Alternative)
Added Bakari
Added Bela
Added Duocara
EXPERIMENTAL FEATURES
Keep in mind that these features are experimental, so bugs are going to appear
Added the cure, now you can cure the NPCs that have been infected (the process takes 1:00)
Added TIO (mob and boss fight phase 1)
Fixes:
Weapons positions in first person are now fixed
Soldier, Zompiggy now have 50 of health and they can despawn from the world
Sentinels and umbra now have 50 of health and they can despawn from the world
Pumpiggy texture is now fixed
Improvements:
Crove and alt Crove are now the same mob
All the baseball bats are 3D
Some textures has been remade to match their original color
New textures for Sentinels and Umbra
Alfis snout is now 3D
Now the process of infection takes 1:35 to match the time in Piggy: Intercity
Skelly, Zompiggy, Ghosty, Mr. Stitchy, Mari now have animations
Added dirty dress textures for some characters
Mr. P has new animations
Robby (NPC) now has custom dialogues.
New icons for Mr. P, Pickle Rick, Mr. Bliss and Piggy Morph.
Added a new custom icon for the addon pack
Added a new title logo
Carver now has a new texture and custom animations
Rash now has custom animations
PAGE CHANGES:
Added detailed info for every mob.
Added renders for each mob and blocks.
Added a new detailed crafting info.
New images for all the hats
Changelog for January 01 / Late Halloween Update