ALPHABET & NUMBERS Blocks Addon [Decorate with letter & number blocks]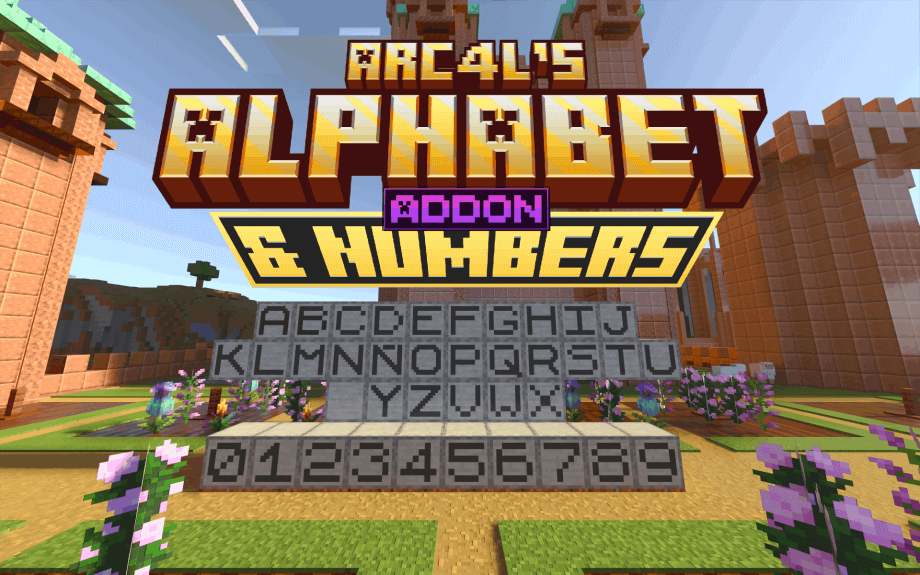 Decorate, build and create awesome constructions with these useful letter & number blocks. This addon adds blocks with letters and numbers to make big signs and decorate your server and realms!
CRAFTING:
How to create letter & number blocks
All you need is create a stonecutter and have some smooth stone blocks, then you can put the smooth stone inside de stonecutter and there will be all the blocks with the different letters of all the alphabet and numbers!
Now you can decorate all your buildings, put some BIG signs with BIG letters, or made a huge name of your server and realm!
- > All letters and numbers are there!
The texture of these block is made form the smooth stone so you can easly mix them and create awesome big signs for your house, castle, the welcome sign of your town and maybe for a huge announcement in your server!
Expand all your ideas and stop making those annoying letter-banners and use this easily-making blocks!
The crafting is made by stonecutter so you can obtain all blocks in survival!
TUTORIAL:
You can comment on any suggestion, remember to support the Addon to add more features like other block types! Thanks for your support and downloading!
NOTE:
If you want to make a review or a video about this addon, credit me in the video/description and use my link.
Don't use your own link, use the proper link on MCPEDL.

Make sure to turn on "Upcoming Creator Features" to make it work!

Do NOT upload a direct link.
INSTALLATION:
You must download and install the files from both links (Resources/Behavior)!
Click on the download links.
Click on the "Free access" option.
Follow the step that is requested in Linkvertise.
ENJOY!
Apply both packs to your world and activate the experimental option "Upcoming Creator Features"