Samb
upd:
Proximity Text Chat Addon
Would you like to add a touch of realism to your conversations in Minecraft? With this addon, you can make the chat proximity-based, meaning that only players who are close to you can read what you write. Also, the text will have a shadow effect that will vary depending on the distance you are from others, making it darker or lighter. This way, you can tell if someone is far or near you just by looking at the chat.
This addon adds a proximity text chat to your Minecraft Bedrock server. It is called Proximity Text Chat addon. It simulates a proximity chat but in text within the game.
This addon for Minecraft Bedrock adds a text chat to proximity that becomes increasingly gray as the player moves away, simulating the real proximity of the voice. The addon consists of a single script and does not modify the player.json. Text chat is only visible within a limit of 15 blocks.
The text is displayed in its normal color at a radius of 5 blocks.
The text is displayed in a light gray color at a radius of 10 blocks.
The text is displayed in a dark gray color at a radius of 15 blocks.
After these 15 blocks the text will not be displayed for the other player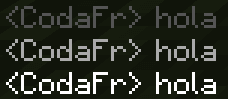 This addon is ideal for playing on role-playing, survival or adventure servers, where communication is important but so is immersion. Download this addon now and enjoy a new way of chatting in Minecraft Bedrock!
IMPORTANT: Activate BETA API's also know as GAMETEST FRAMEWORK
IF YOU ARE GOING TO DO A REVIEW OF THE ADDON PLEASE GIVE CREDITS TO ME.
FORBIDDEN TO PLACE DIRECT LINK