Mindsh4ke
upd:
Home+ Addon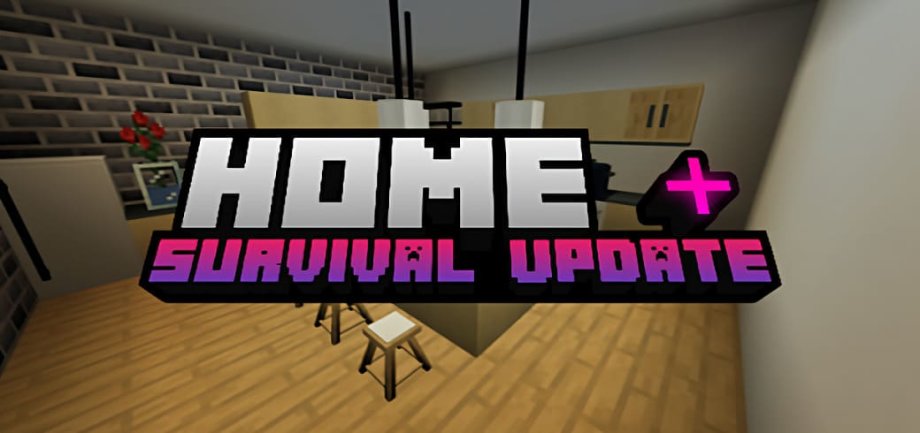 If you have decided to work hard on the comfort and beauty of your home, but you do not have enough blocks and objects for this, use the "Home+" addon, which will add more than 250 new pieces of furniture, decor and some other stuff to make the game more complete.
Info
Creator: mind.sh4ke (Twitter)
This addon requires Block-Geo Fixer. After activation, it has to be on top of Home+ Resource Pack.
Note: Remember to enable all experimental features, this addon need them to work with blocks!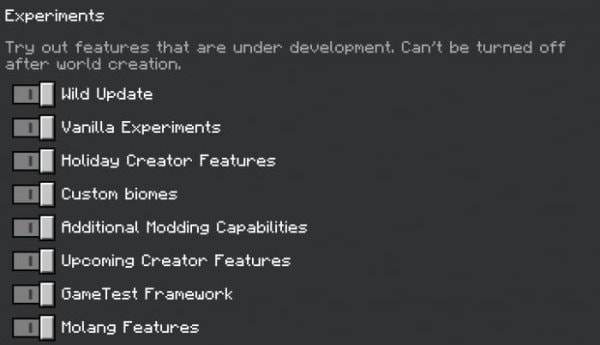 Trailer:
Crafting
In survival mode, to create any furniture block from this addon, you will need Carpenter's Workbench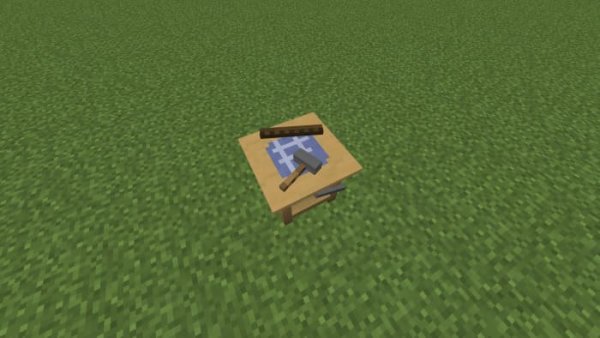 Carpenter's Workbench recipe craft: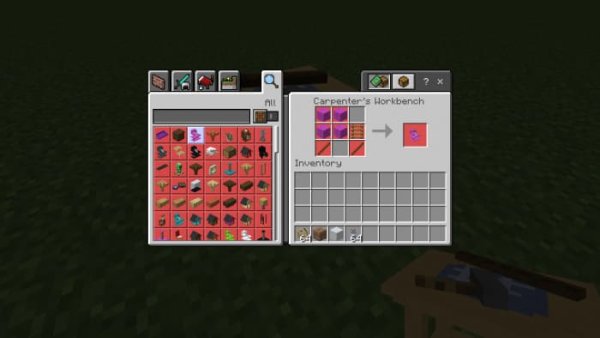 In creative mode, all blocks and items of the addon are available in the creative inventory.
Features
A lot of modern and functional furniture will allow you to complete your home!
You can turn off the switch to see all available recipes in this table.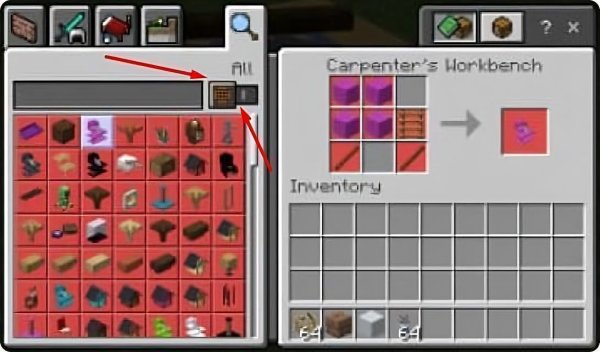 Living room
Ceiling lamps (black and white)
Functional chairs (all colors)
Six types of custom doors
Six types of lamps
Bamboo, sapling and ivy pots
Roof lights
Six different shelfs
Sofas (all colors)
Tables
TV
Ceiling fans
Custom stairs
Shelf decorations (books, spices, potions and pots)
Kitchen
Functional plate (you can put food on it)
Fridge
21 types of kitchen cabinets
Knifes stand
Two stools
Functional toaster
Functional oven
Decorative teapot, dirty plates, pan and cooking pot
3 types of sinks
Cups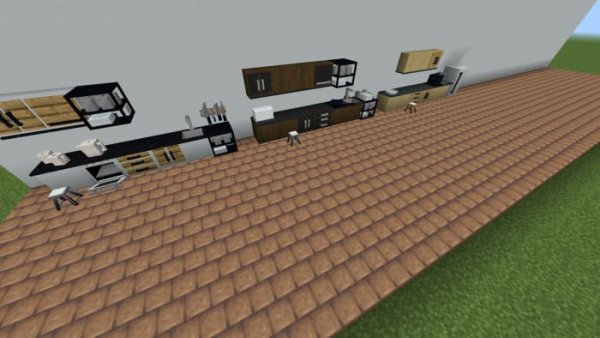 Bedroom
Two types of desk lamps
Functional coat rack (you can put your armor)
Functional sword stand (perfect to show off)
Functional hat stand
LED lights
Nightstands
Laptop
Plushies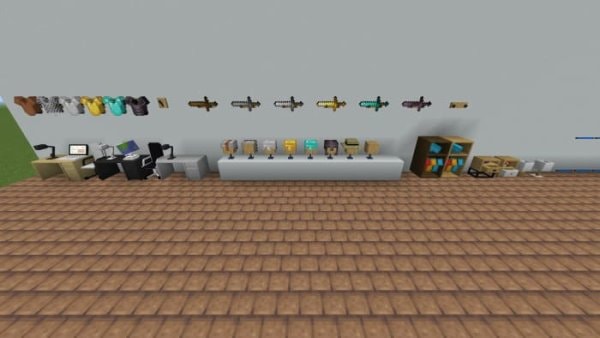 Bathroom
Bathroom cabinets
Functional shower
Functional sink
Functional toilet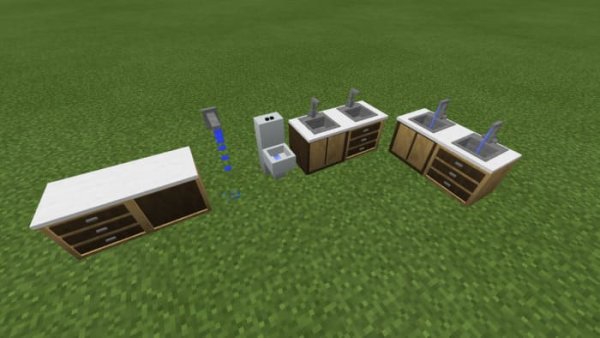 Garden
Functional doorbell
Garden chair and table
Grass wall
Functional grill
Hanging pots
Sprinkler and big sprinkler (perfect to decorate and for your wheat)
Floaters to have fun with your friends
Functional skylanterns (to make the skylanterns fly, you have to use a flint and steel)
Balloon lamps
Deck chairs
Brazier
Parasols
Log chair
Picnic chairs (oak, spruce, dark oak, acacia, jungle and birch)
Picnic tables (oak, spruce, dark oak, acacia, jungle and birch)
Tall torches
Pets
Cat scratching trees
Cat scratchers
Dog kennels
Pet bowls
Christmas
Functional presents (you can put a note with a tag)
Decorative presents
9 decorations for christmas trees
Customizable christmas trees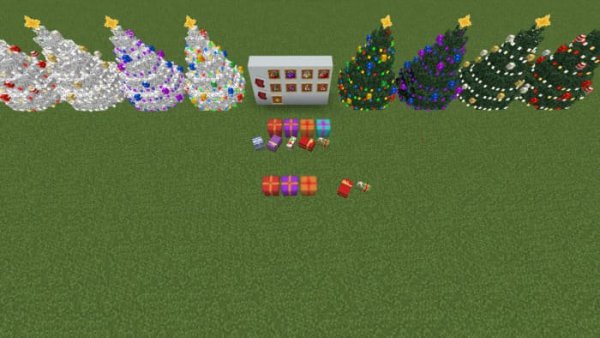 Extra Decoration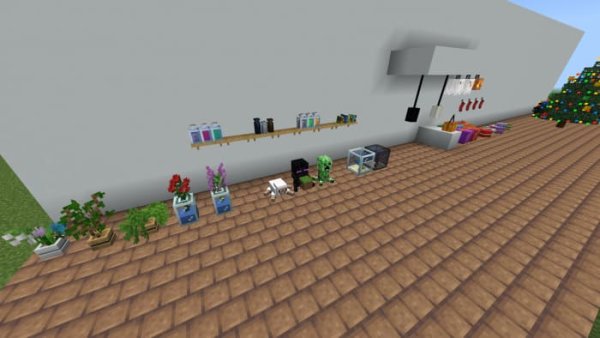 Examples of using